Managing Shipping Locations
A Shipping Location is a preconfigured physical location used by a retailer or merchant as an originating address for the shipment of goods. This page explains how to view shipping locations for your organisation, and how to configure collection calendars for those locations.
Note
This page provides help and support for Sorted Ship. As Ship is currently in development, content may be updated as and when necessary.
For support with Ship (Consignments), click here.
---
Viewing Your Shipping Locations
You can view shipping locations from the Settings > Shipping Locations page.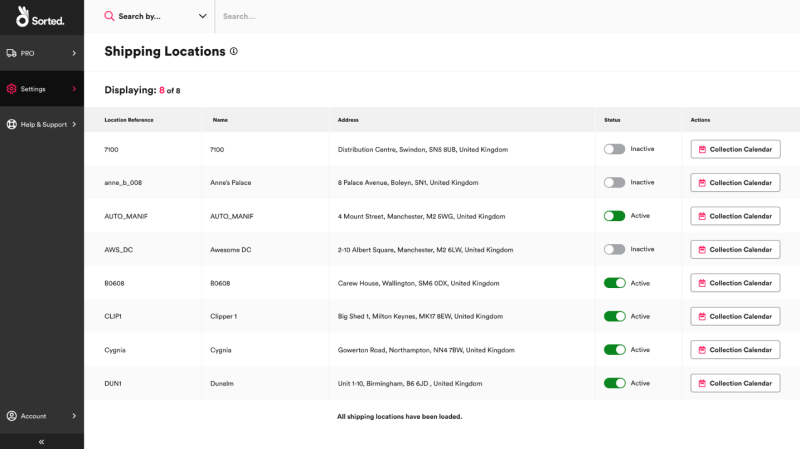 The Shipping Locations page displays a list of all current shipping locations, including the following information:
Location Reference - The location's unique reference.
Name - The shipping location name.
Address - The geographical address of the shipping location.
Status - The current status of the shipping location (either Active or Inactive). You can only use active shipping locations as an originating address when creating shipments.
Actions - Available actions related to the shipping location.
Note
Shipping Locations are typically added during the customer onboarding process, and are rarely added or edited once that process is complete. However, the collection calendars belonging to those shipping locations may require more frequent updates.
Managing Collection Calendars
Collection Calendars define cut-off times for a shipping location. For example, a collection calendar could be used to specify an allocation cut-off time of 4pm for a particular carrier at a particular location. Any shipments allocated to that carrier after that time would be collected the following day.
Collection calendars are defined for each carrier at each shipping location.
Note
In addition to your regular calendar collections, you can also configure custom allocation window exclusions and post-midnight cutoff times at a shipping location, carrier, or tenant/channel level.
For more information on configuring allocation exceptions, see the Managing Allocation Windows page.
Viewing Existing Collection Calendars
To view a collection calendar for a particular location, select Collection Calendar from the location's Action menu. The system displays the Collection Calendar page.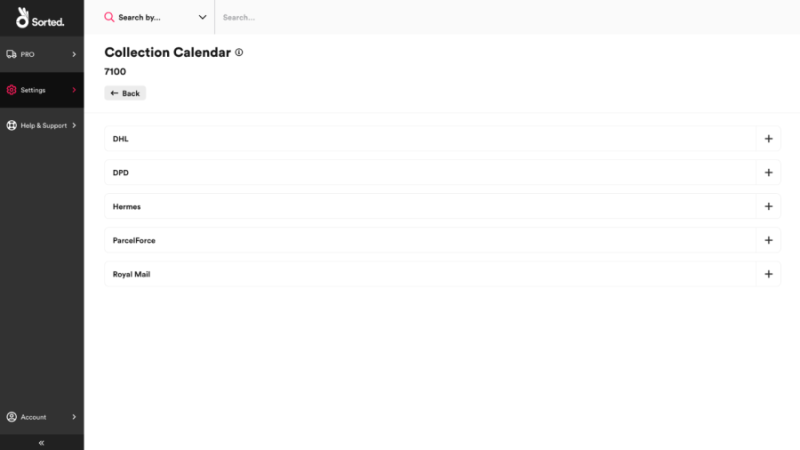 The Collection Calendar page displays all carriers available to the selected location. Click the + icon to select a carrier and day that you want to view cut-off times for.